Reverend John Kahl, Principal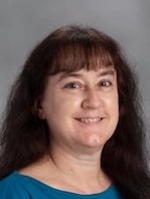 Mrs. Tari Parsons, Secretary
"My passion for education stems from both academic achievement and interest, and the realization that life is more than success – it is striving to do the will of God."
Christ the King Christian Academy is the ministry of several local churches from multiple denominations who have united to promote excellence in education and instruct children in the basics of Christianity.
History of Christ the King
Discussions to start a Christian school began in 1994 among several Christians in the community. Unlike many large cities and towns, there was not an option for a Christian education in rural Stanly County. This group wanted to provide an affordable Christian education to students in the region. A significant gift and loan from Culp Lumber Company and financial gifts from other individuals allowed the group to acquire 62 acres of land in New London to build a school.
Reverend John Kahl and his wife, Cindy, founded the academy in 1999 with the help of other supporters. The school was originally hosted at Highland Baptist Church, whose pastor, Doland Humphries, was one of its most ardent supporters. Since that time, CTKCA has seen God's blessings in multitude that has touched the lives of students and enabled the school to celebrate its 20th anniversary in 2019. It continues to be the most affordable school in a one-county radius around Stanly County.
Ultimately, this is God's school, not the teachers', leadership's, or the community's. Principal Kahl says, "God has blessed us in numerous ways, provides for us, and sustains us. Since God has been so gracious in supporting in the past, there is no reason to doubt that He will not continue to be so in the future. I am most hopeful in watching what God will do for us next."
Principal John Kahl Biography
Principal Kahl received his Master's of Divinity from Lutheran Theological Southern Seminary in Columbia, South Carolina, where he graduated top of his class. Prior to this he was a Lieutenant in the US Navy where he served everywhere from Newport, Rhode Island, to Orlando, Florida, working on the Navy's nuclear propulsion program.
Principal Kahl consistently excelled in his education. His many academic accomplishments include a triple major in math, physics, and chemistry from Lenoir-Rhyne College (LRC) in Hickory, North Carolina, where he graduated Magna Cum Laude. He met his wife, Cindy, at LRC where she was studying nursing. In high school, he participated in the chess club, wrestling team, placed fifth in the Western NC math competition for geometry during senior year, and received senior awards in math, physics, and chemistry.
Even through all of his academic accomplishments and professional successes in the Navy, Principal and Mrs. Kahl continued to feel pulled towards ministry. He decided not to pursue a Ph.D. in analytical chemistry and instead enrolled in seminary following the lead of his father who was a chaplain in the Army. His father's career allowed him to grow up in many different places, including West Germany, Alabama, Massachusetts, South Carolina, and North Carolina. Cindy and Rev. Kahl made Richfield, NC, their home following seminary in 1992.
Rev. Kahl was influenced strongly by his teachers during his life, and his interest in education peaked during the sixth grade by Mr. Akagi while living in Munich, Germany. In addition to the influence of teachers who encouraged his study of math and chemistry, he stayed highly involved in his family's church and the youth group. This upbringing was key in developing his passion for education.
Academy Governance
The school is governed by a school board who is elected by members of various supporting churches. The board meets regularly to discuss the strategic direction of the school.