Middle & High School
Our goal is to ensure our middle school and high school students will be ready for whatever God has planned for their lives. In addition to the purely academic skills of arithmetic, writing, and science, our students are equipped with the ability to defend their faith with strength and integrity.
Overview
Highlights:
Small class sizes

College-prep level

Student-focused help classes

All curriculum is Christ-centered



Subjects
History: American, world, economics, government, geography
Science: Earth & space, physical science, biology, advanced biology, chemistry, physics, anatomy
Math: Pre-Algebra, Algebra 1 & 2, geometry, pre-calculus, calculus, consumers' math
English: Analytical literature, grammar/spelling, writing
Other classes: Bible study, Spanish 1 & 2, physical education, computer, Greek
Additional classes are also offered through Stanly Community College's Career and College Promise program
Spiritual Overview
Middle school students complete the Bob Jones curriculum which focuses on Bible truths, heritage studies, and provides a Biblical Worldview across subjects.
High school students complete a four-year Bible study which focuses are these four themes:
Crossways – a walk through the Bible highlighting little known facts and the history of Biblical times.
Doctrines – a study of what Christians hold in common and differences among them in order to strengthen and deepen one's faith.
Ethics – helps students understand how to live out their faith in our world.
Apologetics – prepares students to understand various worldviews and defend their faith to those who do not believe in the Bible.
High school students also participate in service projects such as packing shoeboxes at the warehouse for Operation Christmas Child.
Other Activities
Washington, DC trip
Leading "See You at the Pole"
Helping students in the lower school
Spring Banquet
National Conference on Christian Apologetics
Reverend John Kahl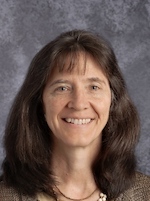 Mrs. Cindy Kahl
"This is my first year at CTKCA and so far, I'm enjoying it. My classes are not boring, and I like my teachers, Mr. and Mrs. Kahl. The food is awesome. Most of all, I like our Literature class. Right now, we're reading The Count of Monte Cristo. It's a long book but I'm enjoying it and can't wait to finish it."